Objectives : run a GTK+3 application as a web app using Broadway.
We have a classical GUI Windows application using GTK+3 ; we want to get a web/HTML5 display using the Windows version of Broadway.


1) Install GTK+3 "Runtime" for Windows
Install :
GTK+-Runtime-3.4.2_(TARNYKO).exe (18,2 Mb)
After the setup process, you can run the GTK+3 test application by doing "Start menu" -> "Programs" -> "GTK+ 3.4.2 Runtime" -> "GTK3+ Widget Factory" :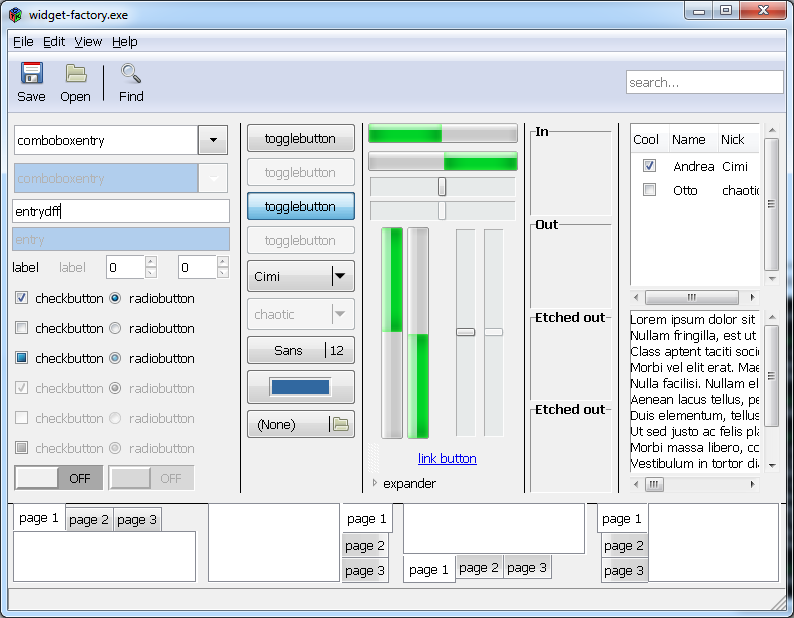 2) Install the Broadway module
Download :
http://www.tarnyko.net/repo/libgdk-3_(Broadway)(TARNYKO).zip (987 Kb)
Double-click on the ZIP file to open it, then copy-paste the "libgdk-3-0.dll" file to the "bin" subdirectory of GTK+3's installation folder.
  (it's "C:\Program Files\GTK+-Runtime-3.4.2\bin" if you didn't change it)
Windows will ask for confirmation to replace the file : validate.


3) Activate Broadway and run the GTK+3 application
Open a command prompt ("Start menu" -> "Accessories" -> "Command prompt") and activate Broadway by typing :
set GDK_BACKEND=broadway
Still in the command prompt, move to the "bin" folder and run the demo app. E.g. :
cd C:\Program Files\GTK+-Runtime-3.4.2\bin
gtk3-widget-factory.exe
You shouldn't see anything special. Just don't close the command prompt.


4) Access the app using Firefox
Install the last version of Firefox if you already hadn't : http://www.mozilla.org/firefox
Launch the browser and simply connect to this URL :
http://localhost:8080
Here we go !


(PS : this will work with any GTK+3 application)